Feast Wishes
Konkani Manyata Divas
Lagori
Youth Power
Church

The members OF YSD-ICYM got together for a 'Potluck' and an entertaining evening at the residence of Jonita D'Souza at 6:30pm.The evening began with the monthly meeting of YSD-ICYM and the annual report of the year 2016-2017 was delivered.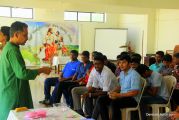 The elections for the new office bearers for the year 2017-2018 took place during the regular meeting on June 18th at the meeting hall. Following members were elected as the new office bearers.
Liturgical Timings
Mass

Novenas

Daily
: 6:15 am
Monday
: Most Holy Redeemer
Saturday
: 5:00 pm
Tuesday
: St. Anthony
Sunday
: 5:30 am, 7:00 am, 9:15 am
Wednesday
: St. Joseph
Thursday
: Infant Jesus
Saturday
: Lady of Perpetual Succour

All Novenas after 6:15 am Mass

Eucharistic Adoration: Every Friday of the month, after the 5:30 pm mass
Children's Catechism: Sunday 8:15 am to 9:15 am, except on first Sunday of the month
Mass

Daily
: 6:15 am
Saturday
: 5:00 pm
Sunday
: 5:30 am, 7:00 am, 9:15 am

All Novenas after 6:15 am Mass

Novenas

Monday
: Most Holy Redeemer
Tuesday
: St. Anthony
Wednesday
: St. Joseph
Thursday
: Infant Jesus
Saturday
: Lady of Perpetual Succour
Eucharistic Adoration: Every Friday of the month, after the 5:30 pm mass
Children's Catechism: Sunday 8:15 am to 9:15 am, except on first Sunday of the month